Ahmet Ertuğ studied architecture at the Architectural Association School of Architecture in London, graduated in 1974 and practiced architecture in England, Iran and Turkey. He started photography during 1972, in London and took photographs of Caribbean festivals and street life in West End and East End of London. While working in Iran as an architect during 1974-76, he photographed indigenous settlements and ancient Persian monuments. His commitment to photography started when he was awarded the Japan Foundation Fellowship to do research on the traditional architecture of Japan in 1979. For one year he traveled extensively in Japan and photographed the ancient temples, Zen gardens and festivals.

After Japan he returned to Istanbul and worked as an architect for the conservation planning of the historical city. His knowledge of the historical quarters of the city encouraged him to photograph the architecture and art of Byzantine, Ottoman, Roman heritage of this ancient city. His photographic exhibition on the monuments of Istanbul was shown in Paris, Madrid, Toronto under the auspices of UNESCO.
« Devrais-je dire Monsieur Ahmet Ertug ou Ertug?
Car de fait son nom seul, par son oeil, est signature!
Photographie, évocation technique?
Ertug ne regarde pas une oeuvre, il s'y mêle, s'y confond, son regard placentaire
enveloppe, sculpte, absorbe… une vision.
Mon commentaire exprime-t-il mon juste émerveillement? »

Serge Lutens
"Shall I say Mister Ahmet Ertug or simply Ertug? Since his surname alone, per his eye, is a signature! Photography, can we also call it a technical evocation? Ertug doesn't look at an artwork, he blends in, fuses with it; his regenerative look shields, sculpts, engages… a vision. Does my commentary express enough my rightful wonderment?"

Serge Lutens
During 1980s he established his own publishing house and has since published about 30 exquisite art books on subjects in Byzantine, Ottoman, Hellenistic-Roman and Asian art. He uses a 20×25 cm / 8×10 inch large-format camera in his photography of architecture and sculpture. His books are printed under his personal supervision, by some of the best printing and binding institutions in Switzerland and Italy. These exquisite art books became a major achievement and innovation in printing industry.
Ahmet Ertug has held important solo exhibitions of his photographic work on Byzantine architecture in Paris at Couvent des Cordelier and also Ottoman and Byzantine architecture at La Conciergerie.
His photographs of Hellenic and Roman sculptures were exhibited at the Tuilleries Gardens adjacent to the Louvre. His photographs of Buddhist sculptures from the Musée Guimet collections became an exquisite book and were also exhibited at that museum. This book was selected among the best publications of 2004 by Le Monde, which also called it the most beautiful book of the year.
"Ahmet Ertuğ reveals himself as a photographer who is capable of more than just capturing"

   from the essay "Grand Opera Through the Grand Lens" by Rolf Sachsse
Ahmet Ertug's photography has a deep meditative energy and it withdraws the observer into the intellectual content of his subjects, ranging from the vast interior of monumental buildings to the silent gazes of ancient sculptures.
His large format photographs of the Hagia Sophia interior, and details of mosaic panels were exhibited in the upper gallery of the Hagia Sophia museum.
In October 2008, an exhibition of his 35 large format photographs about Ephesos antique city has been launched, in the Ephesos Museum, which is a part of the Kunst Historiche Museum in Vienna. This exhibition became a permanent collection of the Museum.
A major exhibition of his large format photography on historical libraries of Europe was exhibited at the Bibliotheque Nationale de France, during May-June 2009. A limited edition book 'Temples of Knowledge:Libraries of the Western World' was also published during this exhibition.
Behind the Scenes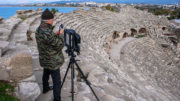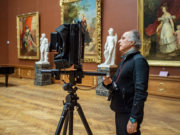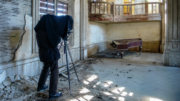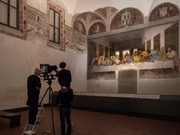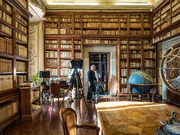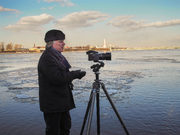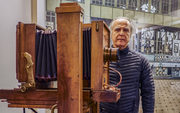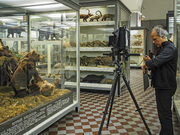 In the Press
L'Information Immobiliere – Portfolio. February 2021. Geneva, Switzerland.
Ahmet Ertuğ. Espaces Sacrés – Carnets de Traverse
Artist to Know: Ahmet Ertuğ – Auction Daily
Watch the Documentary, Izler Suretler / Behind the Photograph – TRT [ Youtube ]
Byzantine Delights: The Finest in Fine Arts Publishing
From Turkey, a new genre in art publishing – The New York Times
Photographs of early Christian churches in the Cappadocia region on view at Penn Museum
Fairfield University's Bellarmine Museum of Art presents a new exhibition, "Vaults of Heaven: Visions of Byzantium,"
Dr. Rolf Sachsse – Ahmet Ertug and Architectural Photography. Conference Keynote
New Canaan Library celebrating Leonardo da Vinci
Essays