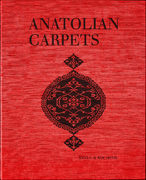 Limited Edition
Anatolian Carpets
Masterpieces From The Museum Of Turkish And Islamic Arts
Text by Walter Denny and Nazan Olcer
Ertug & Kocabiyik provided funding for the conservation of one hundred forty unique Turkish carpets, nearly all of which had never been published. Ahmet Ertug photographed the carpets using large format cameras to achieve minutely detailed images that will provide connoisseurs of carpets and textiles with an unmatched visual experience. The book has received excellent reviews in leading carpets and textiles magazines. "The most lavish publication of the second half of the 20th century in the field of oriental rugs." Hali issue 109.
32.5 by 43 cms, 204 pages (140 color plates, 4 gatefolds, and 14 additional detail plates of the carpets). Hardbound in Japanese cloth and presented in a deluxe clothbound box.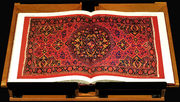 Inquiries
For further inquiries about this and other publications, please email us at ahmetertug@gmail.com. We regularly ship our books all across the world.
Bookstores
Librairie Galignani
224 Rue de Rivoli
75001, Paris
John Sandoe Books
10 Blacklands Terrace
Chelsea, London SW3 2SR
Librairie Bernard Letu
2 rue Calvin
Geneva, Switzerland
1204
Other Publications