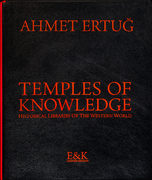 Limited Edition
Temples of Knowledge
Historical Libraries of the Western World
This book offers a visual journey into the ancient libraries of Europe through the eyes of Ahmet Ertug. The book displays unique and magnificent libraries in Portugal, Spain, France, Italy, Switzerland, Germany, Austria, Czech Republic, England and Ireland. A total of 30 historical libraries are presented in the book.
This limited edition book is created by master printers and binders in Italy. The exquisite volume is limited to 400 hand-crafted, leather-bound volumes. The book has 160 pages, 51 single page images, printed at 16 by 20 inches and 49 double page images, printed at 20 by 24 inches. All pages are hand attached to the spine of the book, avoiding stitching through the images.
The publishers also offer a "portfolio" edition of 32 unfolded image plates presented in a leatherbound case. Only 100 copies of this version have been produced.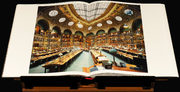 Inquiries
For further inquiries about this and other publications, please email us at ahmetertug@gmail.com. We regularly ship our books all across the world.
Bookstores
Librairie Galignani
224 Rue de Rivoli
75001, Paris
John Sandoe Books
10 Blacklands Terrace
Chelsea, London SW3 2SR
Librairie Bernard Letu
2 rue Calvin
Geneva, Switzerland
1204
Other Publications