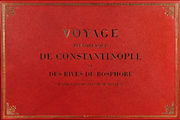 Limited Edition
Voyage Pittoresque de Constantinople et des Rives du Bosphore
Drawings by Antoine Ignace Melling
Another superb facsimile edition of a very rare book by Ertug & Kocabiyik. In 1795 the Alsace-born Antoine Ignace Melling, who had come to Constantinople to seek his fortunes, was appointed imperial architect by the Ottoman sultan Selim III. During his tenure in that position, he also designed and landscaped a seaside palace for Selim's sister, Princess Hatice. While in Constantinople, Melling executed a number of astonishing panoramic views of the city and its environs.Melling returned to Paris in about 1803. In 1809 he set up an engraving studio for the purpose of reproducing these drawings. The completed images were published as a series of fascicles that were sent out to subscribers. The last one appeared in 1819. The Ertug & Kocabiyik facsimile edition of the complete book is produced from the original "elephant folio", an unfolded first edition in the collection of Ahmet Ertug. The technical aspects of the project were done under the supervision of Mr Ertug in Switzerland by some of the world's leading facsimile specialists.
This outstanding facsimile edition is available in two different bindings. One is bound in sturdy Japanese cloth and the other is a very limited edition of only 50 copies bound in leather that is intended for connoisseurs of exceptionally fine books. The binding and decoration of all the leather-bound copies were done by hand. The book measures 50 by 66 cms. The image plates are 65 by 97 cms. There are 48 views of Constantinople in the late 18th century and also three maps. The publishers also offer an edition of the unfolded image plates presented in a leatherboundcase. Only 25 copies of this version have been produced. The text for this edition is bound separately and presented in a pocket in the leather case. The descriptions of the views in the facsimile edition are in the original French and a English translation is also provided. The Ertug & Kocabiyik facsimile edition of Voyage pittoresque is an outstanding achievement and one that is certain to appeal to collectors of rare books and to those who admire beautiful art objects.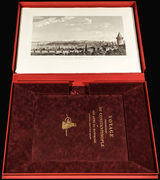 Inquiries
For further inquiries about this and other publications, please email us at ahmetertug@gmail.com. We regularly ship our books all across the world.
Bookstores
Librairie Galignani
224 Rue de Rivoli
75001, Paris
John Sandoe Books
10 Blacklands Terrace
Chelsea, London SW3 2SR
Librairie Bernard Letu
2 rue Calvin
Geneva, Switzerland
1204
Other Publications