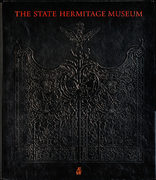 Limited Edition
Hermitage
a Palace and a Museum
This limited edition of 100 copies is bound with exclusive hand-embossed leather and presented in a leather box. Photographer Ahmet Ertuğ has been invited by The State Hermitage Museum's Director General Mikhail Piotrovsky to photograph the Hermitage and to publish a book to commemorate the 250th anniversary of its foundation. Introduction written by Mikhail Piotrovsky. Truly a collectors item.
48 x 40 cms, 200 pages, 78 full-colour plates, 32 pages of text and an additional 16 images. Printed in Germany, and hand-bound with leather in Italy.
The large format 8 x 10 inch photographic plates by Ahmet Ertug were processed in the leading London photographic laboratories, in order to capture their best colour fidelity. The digital darkroom work and colour separation for the volume has been carried out using PrimeScan 16 bit drum scanners, Eizo high end monitors and specially calibrated proofing systems.
The technical team, which has many years of collaboration with Ahmet Ertug, has devoted many hours to each image, and has utilised leading-edge technology in order to emphasise the full range of colour captured on each original film. The paper used in the volume is 250 gsm Scheufelen Phoenixmotion Xantur, an exceptional German paper with FSC Qualification (the mark of responsible forestry).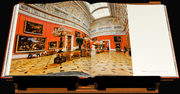 Inquiries
For further inquiries about this and other publications, please email us at ahmetertug@gmail.com. We regularly ship our books all across the world.
Bookstores
Librairie Galignani
224 Rue de Rivoli
75001, Paris
John Sandoe Books
10 Blacklands Terrace
Chelsea, London SW3 2SR
Librairie Bernard Letu
2 rue Calvin
Geneva, Switzerland
1204
Other Publications