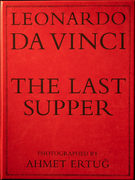 Limited Edition
Leonardo da Vinci – The Last Supper
The Last Supper is a limited edition large format album on Leonardo da Vinci's Last Supper in Milan published by Ahmet Ertug. It is available in a limited edition of 100.
The leather bound album presents three folded panaromic photographs of da Vinci's Last Supper. Each is photographed in multiple sections using large format film, resulting in panoramas that capture intricate detail, colour, and emotional gestures.
The accompanying text is authored by Professor Dennis Geronimus, a leading expert on Leonardo and Renaissance period art. Professor Geronimus is Associate Professor of Art History and Chair of the Department of Art History at New York University.
All editions are numbered and signed by Ahmet Ertug.
The portfolio is handbound by a master Italian binder in beautiful red and black leather and with black moire silk endpaper.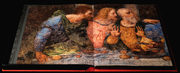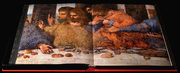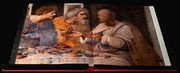 Inquiries
For further inquiries about this and other publications, please email us at ahmetertug@gmail.com. We regularly ship our books all across the world.
Bookstores
Librairie Galignani
224 Rue de Rivoli
75001, Paris
John Sandoe Books
10 Blacklands Terrace
Chelsea, London SW3 2SR
Librairie Bernard Letu
2 rue Calvin
Geneva, Switzerland
1204
Other Publications