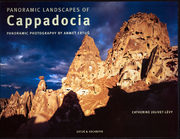 Panaromic Landscapes of Cappadocia
Text by Catherine Jolivet-Levy
Panoramic Landscapes of Cappadocia takes the reader into and through the astonishing world of the valleys of Cappadocia. Successive civilizations and cultures have left their marks here, excavating and carving houses, tombs, workplaces, and shrines out of the living rock. Far from destroying the landscape however, their efforts have actually added to it. Like its subject, Panoramic Landscapes of Cappadocia offers a stunning array of broad panoramic views of this magical world.
The images are accompanied by an informative introductory essay and commentaries by Catherine Jolivet-Lévy, a respected scholar on Cappadocian archaeology and medieval art. Photographer Ahmet Ertug's panoramic images are presented as fold-outs that measure 156 by 36 cms when fully extended. There are 30 of these panoramic plates, each one of which is affixed directly to the spine. Each book is individually bound by hand.



Inquiries
For further inquiries about this and other publications, please email us at ahmetertug@gmail.com. We regularly ship our books all across the world.
Bookstores
Librairie Galignani
224 Rue de Rivoli
75001, Paris
John Sandoe Books
10 Blacklands Terrace
Chelsea, London SW3 2SR
Librairie Bernard Letu
2 rue Calvin
Geneva, Switzerland
1204
Other Publications