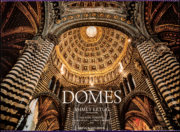 Domes
A Journey Through European Architectural History
Text: Michael Forsyth, Robert Ousterhout, Doğan Kuban
This enchanting and important book presents the art of the internationally famous architectural photographer, Ahmet Ertuğ in his latest folio, capturing the spatial essence of that most defining symbol of architecture, the Dome. The book is a journey through architectural history, from the immense spherical dome of the first-century Roman Pantheon, its oculus open to the sky, to the steel and glass of Norman Foster's Bundestag, Berlin, one of the most visited new architectural structures in the world. Along the way are the domes of Byzantium including the Hagia Sophia, its dome pierced with lunette windows that make it seemingly float by magic; the mighty domes of the Middle Ages the Renaissance and the Baroque, each presenting its architect with the greatest of all structural challenges – Brunelleschi's Florence Cathedral, Michelangelo's St Peter's, Sir Christopher Wren's St Pauls' in London, and the iron and glass domes of nineteenth-century France. The text, by leading authorities in their field, relates the extraordinary and unique stories behind each, explaining the structural principles and the fascinating tales of human, social and personal strife, by the architects and craftsmen from ancient Rome to the present day. More than any other architectural element, domes have facets of structure, vision, representations of heaven, iconography and acoustics, all involving the greatest names in architectural history. The expansive photography of Ahmet Ertug captures the spatial vision of 27 famous domes, all of them visually stunning and all with a story to tell.
2012
English
35×48 cm
212 pages (110 color plates)
Printed and hand bound in Switzerland to very high standards. Presented in a slipcase, book cover bound in silk cloth.




Inquiries
For further inquiries about this and other publications, please email us at ahmetertug@gmail.com. We regularly ship our books all across the world.
Bookstores
Librairie Galignani
224 Rue de Rivoli
75001, Paris
John Sandoe Books
10 Blacklands Terrace
Chelsea, London SW3 2SR
Librairie Bernard Letu
2 rue Calvin
Geneva, Switzerland
1204
Other Publications