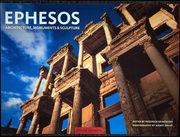 Ephesos
Architecture, Monuments & Sculpture
Text by Prof. Friedrich Krinzinger and others
The ancient city of Ephesos, located on the Aegean coast of Turkey and one of the most extraordinary settlements in the Aegean region, was the home of a glorious civilization.
For this large-format publication dedicated to the city of Ephesos and to its monuments and sculptures, Ertug & Kocabiyik collaborated with the specialists of the Austrian Archaeological Institute, which has been carrying out the excavation, restoration, and reconstruction work at the site continuously since 1954.
Prof. Friedrich Krinzinger, the director of the Ephesos excavations, laid out the editorial concept of the book while the archaeologists who are responsible for the excavations and discoveries wrote the scholarly text.
The photographic documentation by Ahmet Ertug, has produced outstanding panoramic views of the ancient city as well as large-format images of monuments, villa interiors and sculptures at the Ephesos Museum in Selçuk, the Archaeological Museum in Izmir and the Ephesus Museum in Vienna.
47.8 by 35 cms, 240 pages. 34 panoramic plates and 109 full-colour plates. Printed and hand-bound with exquisite Japanese cloth in Switzerland and presented in a slipcase.



Inquiries
For further inquiries about this and other publications, please email us at ahmetertug@gmail.com. We regularly ship our books all across the world.
Bookstores
Librairie Galignani
224 Rue de Rivoli
75001, Paris
John Sandoe Books
10 Blacklands Terrace
Chelsea, London SW3 2SR
Librairie Bernard Letu
2 rue Calvin
Geneva, Switzerland
1204
Other Publications