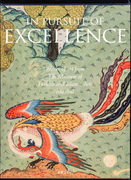 In Pursuit of Excellence
Essay by Oleg Grabar and Nazan Olcer
This limited edition will appeal not only to collectors interested in Turkish and Islamic art but also to artists and designers looking for sources of inspiration in non-Western art. The museum's world-famous collections of Seljuk, Ottoman, and early Islamic art-Qurans, manuscripts, wood and stone carvings, metalwork, ceramics, and carpets-are presented as large-format images. The accompanying essays are by Prof Oleg Grabar, a respected authority on Islamic art; Dr Nazan Olcer, director of the museum; and other museum curators.
26 by 36.5 cms, 260 pages. Hardbound in Setalux cloth and presented in a slipcase.
Inquiries
For further inquiries about this and other publications, please email us at ahmetertug@gmail.com. We regularly ship our books all across the world.
Bookstores
Librairie Galignani
224 Rue de Rivoli
75001, Paris
John Sandoe Books
10 Blacklands Terrace
Chelsea, London SW3 2SR
Librairie Bernard Letu
2 rue Calvin
Geneva, Switzerland
1204
Other Publications