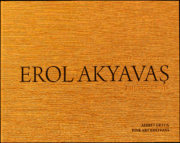 Erol Akyavaş
Form and Texture
Erol Akyavaş – Photographs
Form and texture is a photography book published by Ahmet Ertug. The book is sponsored by Ilona Akyavaş, wife of Erol Akyavaş.
There are 68 black and white photographs in the book from the excursions of Erol Akyavaş to India(1992), Mexico(1994), and Peru(1995).
In the book there are panoramic views of ancient settlements, sculptured stone wall textures, sacred sites, all photographed with the masterful use of light and perspective by Erol Akyavaş.
The concept of the book, curating of the photographs and publishing has been done by Ahmet Ertug. Introduction essay is written by acclaimed photography historian Rolf Sachsse.
Black and white photographs has been printed by Karl Grammlich printing house in Germany, and hand bound in Italy.
250 Collectors Editions will be available with an original photographic print by Erol Akyavaş.
The price of limited edition will be 1400 USD.
Another 250 Editions will be without an original Erol Akyavaş photograph.
The price of the book alone will be 700 USD.
Part of the book's proceeds will be donated to TEV Turkish Educational Foundation, Ilona and Erol Akyavaş Scholarship Fund, providing scholarships for students of fine arts and art history.



Inquiries
For further inquiries about this and other publications, please click here and use the first form to contact us. This book is directly distributed from our main studio so please use the form on the top even if you are contacting us from North America. We regularly ship our books worldwide.
Other Publications