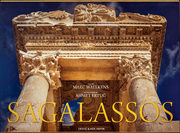 Lavishly illustrated with 99 splendid plates by Ahmet Ertug, the book provides an overview of the ancient history, architecture, sculpture, and pottery of the site, as well as the history of its discovery and subsequent exploration. The texts, written by leading scholars in the field, are accessible both to the non-specialist and to the professional, while the illustrations, ranging from breath-taking panoramic overviews of the landscape to minute details of sculptural elements, reinforce Sagalassos' claim to have been one of the leading cities of Asia Minor.
The book, which is 34x47cm,contains 208 pages. 99 full-colour plates, and additional plans, provide an exemplary overview of the site and its monuments. Printed in Germany and hand-bound in Switzerland, the volume is presented in a slipcase. Texts by Marc Waelkens, Semra Mägele and Jeroen Poblome; photographs by Ahmet Ertuğ.




Inquiries
For further inquiries about this and other publications, please email us at ahmetertug@gmail.com. We regularly ship our books all across the world.
Bookstores
Librairie Galignani
224 Rue de Rivoli
75001, Paris
John Sandoe Books
10 Blacklands Terrace
Chelsea, London SW3 2SR
Librairie Bernard Letu
2 rue Calvin
Geneva, Switzerland
1204
Other Publications